Department of Audiology
Megan Marsh, Au.D., CCC-A
Co-Director of Audiology
Dr. Marsh has over ten years of experience in pediatric and adult audiology specializing in cochlear implants and hearing aids. She is passionate about providing research-based practices so all patients can maximize their potential in hearing and communication development. Dr. Marsh loves getting to work with patients and their families throughout their hearing journey. Hearing loss can be a very emotional event in a person's and family's lives, and Dr. Marsh strives to be a compassionate support system to provide encouragement and hope that hearing loss will never stop them from achieving their dreams.
Dr. Marsh grew up in Cypress, Texas. She received her undergraduate degree in communication disorders at Texas State University in San Marcos, Texas. She then attended the University of Oklahoma Health Sciences Center receiving her doctorate in audiology.
Dr. Marsh has previous experience working at non-profit audiology and speech clinics and managing cochlear implant programs. She also previously worked as a clinical audiologist at Cochlear Americas. Dr. Marsh is experienced in diagnostic audiology, hearing aids, cochlear implants, and osseointegrated technology. She is excited to be part of the All Ears! family and to collaborate with the team to provide the best individualized care for every patient who walks through the doors.
Dr. Marsh has presented at national conferences and has several peer-reviewed articles that have been published on the topic of cochlear implants. She is a member of the American Cochlear Implant Alliance where she has served as a state champion for Oklahoma and Texas.
When Dr. Marsh is not at All Ears!, she enjoys spending time with her family and friends. Her family can often be found cooking together while watching their favorite sports teams. She enjoys improving her golf game on the weekends, logging her miles on her spin bike, and spending as much time with her two nieces.
Julie Cordell, Au.D., CCC-A
Co-Director of Audiology
Dr. Julie Cordell attended Oklahoma State University and graduated with a Bachelor of Science in Communication Sciences and Disorders. She then obtained her doctorate of audiology at The University of Oklahoma Health Sciences Center.
Dr. Cordell has ten years of experience working in adult private practice and pediatric non-profit speech and language centers. Dr. Cordell has experience with diagnostic audiological evaluations and auditory brainstem response evaluations (sedated and non-sedated). She is also well versed with all major hearing aid manufacturers, osseointegrated devices, all three cochlear implant companies, and hearing assistive technologies. She loves training and teaching current audiology students evidence-based audiology practice and is a Certificate Holder-Audiology Preceptor (CH-AP).
Dr. Cordell was diagnosed with hearing loss at the age of 6 which is what led her to pursuing her dream of becoming an audiologist. She knows firsthand the struggles that families and the patient go through as a child growing up with hearing loss. She is passionate about helping her patients and families navigate hearing loss and wants to help her patients become the best advocate for themselves. Dr. Cordell strives to tailor each audiology appointment and devices to what will work for the patient and the family all while providing best practice. She wants all her patients to know that having hearing loss should never limit their possibilities. She is excited to be a part of the All Ears! Team to continue to ensure each patient has an equal opportunity to maximize their speech and language development.
When not at All Ears! Dr. Cordell enjoys spending time at home with her husband, children and dog. When not chasing two toddlers around, she enjoys reading and shopping.
Department of Speech/LSL Intervention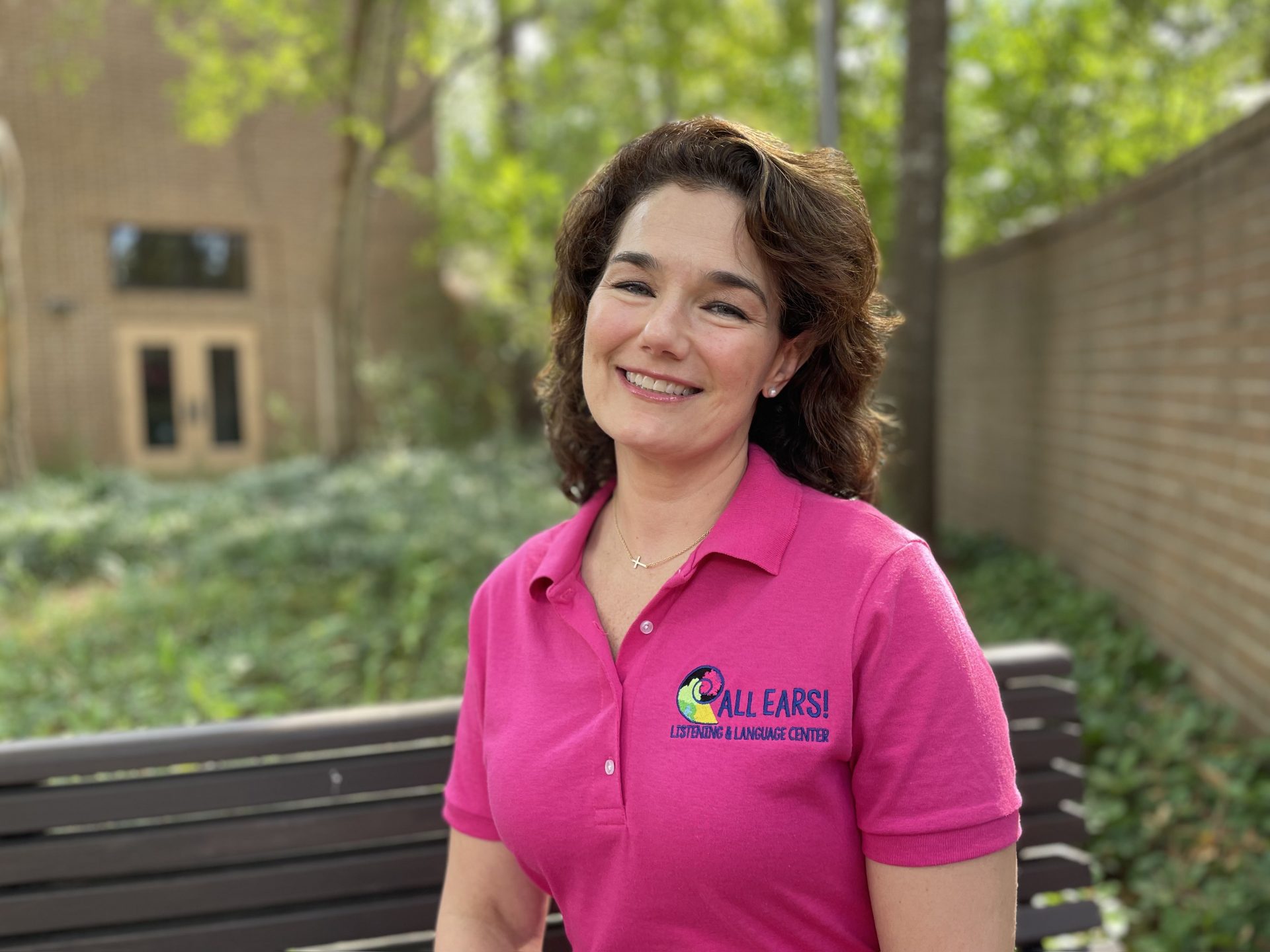 Allison Haggerty, M.S., CCC-SLP, LSLS Cert. AVT Director of Speech/LSL Intervention
Allison Haggerty, M.S., CCC-SLP, LSLS Cert. AVT has been practicing speech-language pathology for 25 years. Once she learned the endless possibilities available for children with hearing loss using a Listening and Spoken Language (LSL) approach, caring for these children and their families/caregivers has been her extreme passion!
It is her commitment to help every family learn how to help their child achieve their fullest potential, so they not only hear their parents' voices, but also grow up to be anything they want to be. Allison comes to All Ears! from Texas Children's Hospital, The Woodlands; she was the only certified AV therapist in the TCH system. Prior to this, she was the Director of Speech Services at The Center for Hearing and Speech in Houston, Texas and the Cochlear Implant Program Coordinator at Cook Children's Hospital in Fort Worth, Texas. She enjoyed being an adjunct professor at The University of Houston, teaching Aural Rehabilitation to undergraduates while introducing them to the LSL option and the Listening and Spoken Language Specialist (LSLS) three-year certification process. Allison serves the LSLS profession by mentoring others toward certification in this highly specialized area. She has also been a part of the Global Foundation for Children with Hearing Loss and their training in Vietnam.
Allison earned her Master of Science degree in Communication Disorders from the University of Texas-Dallas in 1996 and her Bachelor of Science degree in Education from University of Arkansas in 1994. She is a member of American Speech-Language Hearing Association and A.G. Bell Association for the Deaf and Hard of Hearing. Allison is excited, and truly feels blessed, to join All EARS! She has believed in our organization since its beginning with consistent encouragement for families to participate in our programs. Now, she is eager to be a part of these programs as well as work towards its continued growth and vision! She is most excited about building a team of Listening and Spoken Language Specialists and Speech-Language Pathologists who can support the families and teachers of All EARS! as well as build community partnerships so that all the needs of our children can be supported as we strive to care for the whole child. Outside of work, Allison and her husband Bill are allowed to share their home with their two dogs, Whitey and Bitsy. She enjoys laughing with family and friends, good food, dark chocolate, days on the beach with a good book, and yelling for her Arkansas Razorbacks at college football games!
Brandy DeMesme, M.S., LSLS Cert. AVT LSL Director of Parent Education, Support and Mainstream Programs
Brandy is a native of New Orleans, Louisiana where she attended Xavier University of Louisiana, earning a Bachelor of Science in Communication Sciences and Disorders in 2009. After accepting a position as an Audiology Assistant for a private audiology practice in Houston, Brandy's interest with Deaf and Hard of Hearing children sparked. She then pursued Early Oral Intervention graduate studies at the University of Southern Mississippi, graduating with a Master of Science degree in Oral Deaf Education in 2011.
Brandy's professional career began as a Parent Infant Advisor at Sunshine Cottage School for Deaf Children. There she provided family centered listening and spoken language therapy to families of Deaf and Hard of Hearing babies and toddlers. In addition to providing therapy, Brandy supervised graduate students, conducted research, and presented numerous webinars and trainings, and presented at professional conferences. Following three years of additional training, Brandy became a Listening and Spoken Language Specialist, Certified Auditory Verbal Therapist in 2016. After spending six years at Sunshine, Brandy became an Itinerant Teacher for the Deaf and Hard of Hearing at Marietta City Schools and more recently for Cypress Fairbanks ISD. There she worked as a Parent Advisor, an Auditory Enrichment teacher, and member of the assessment team that determined educational programming for each student referred to the program. Brandy has been devoted to serving Deaf and Hard of Hearing children for over 10 years. She is passionate about guiding and coaching families through their respective LSL journey and is thrilled to join and serve the families of ALL Ears!
Department of LSL Education and Full Inclusion
Rosie Hirschfeld, M.S., LSLS Cert. AVEd LSL DIRECTOR OF Education
Rosie Hirschfeld, MS was born and raised in St. Louis, Missouri. After receiving her bachelor's degree in Elementary Education she returned to her alma mater, Fontbonne University, for a master's degree in Early Intervention in Deaf Education. Upon graduation, Rosie moved to Wyoming where she worked in the public school as an itinerant teacher of the deaf for grades K-12.
In 2013, Rosie moved to Houston to be near family and began working at The Texas Hearing Institute as a preschool teacher for the Melinda Webb School. With over ten years of deaf education classroom experience, Rosie is actively pursuing her certification as a listening and spoken language specialist. She is excited to share her love of learning with the families of All Ears!
Administration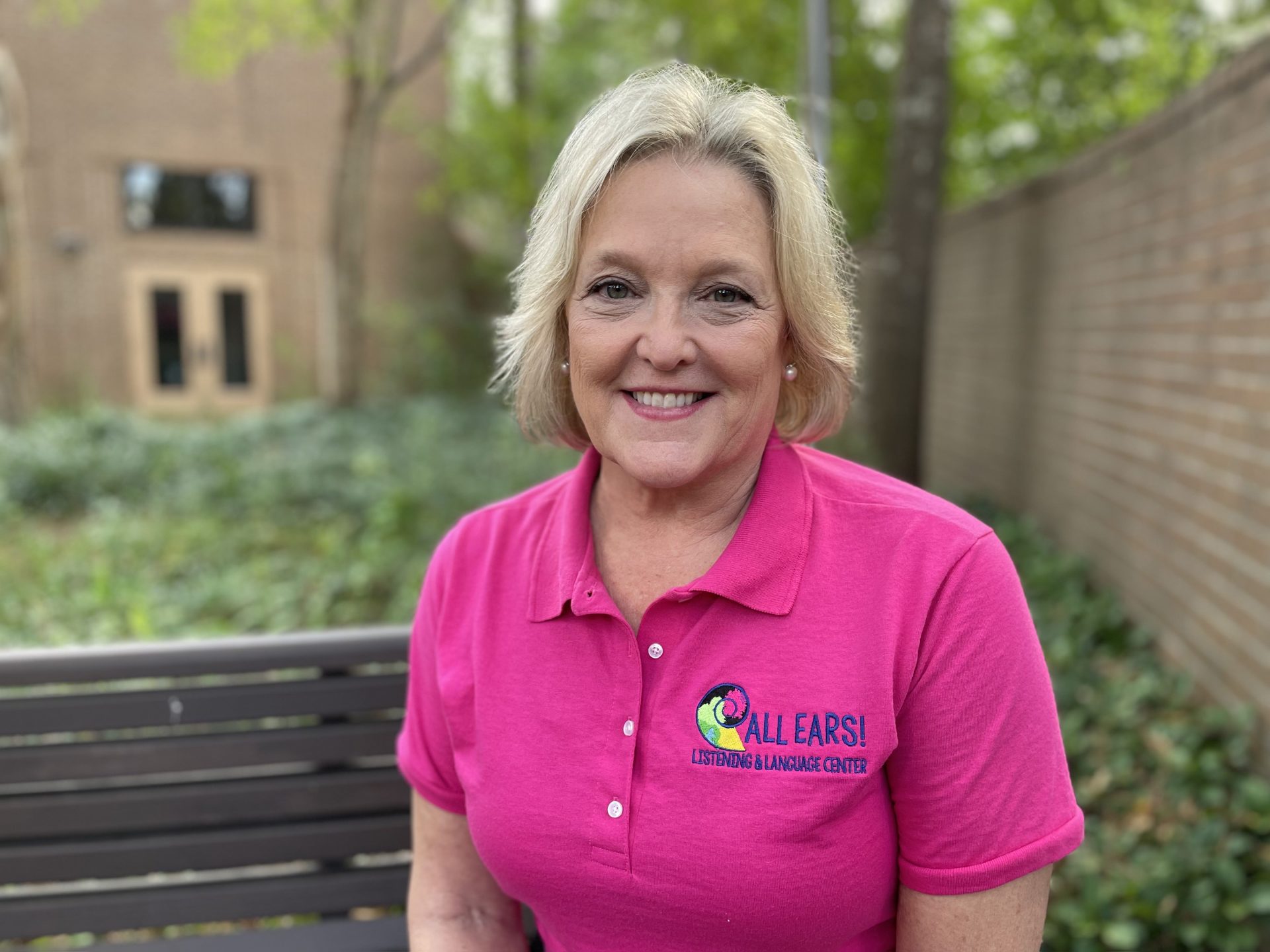 Lee Rech, Executive Director
Lee was hired by the All Ears! BOD to serve as Executive Director in February, 2019. Prior to taking on this position, she was a founding member of the All Ears! Board of Directors in 2014 and served as Board Chair for the organization for nearly 5 years.
Lee received her B.A., with Distinction, from University of Nebraska-Lincoln, and her J.D. from South Texas College of Law in Houston, where she participated on Law Review. After graduation, Lee practiced in the field of medical malpractice defense with the boutique firm of Hanen, Alexander, Johnson & Spalding in Houston. Following ten years as a stay at home mom after the birth of her daughter, Lee returned to the practice of law in 2008 as a Special Prosecutor. In 2009, she was elevated to Chief of the Civil Division, Special Prosecution Unit of Texas, managing the busy office of 8 attorneys, paralegals, investigators and clerical staff, until 2013, when she chose to once again leave the work force to stay at home through her daughter's high school years.
Lee has been personally committed to the mission of teaching deaf children how to listen and talk, and of creating awareness of the listening and spoken language option, since her daughter was born profoundly deaf in 1997. With early diagnosis, appropriate amplification and aggressive AVT, Anna was mainstreamed into a hearing pre-school before she turned 3 years old, was an honor student throughout her large public high school years, and is now a confident and independent college student at University of Houston, who never misses an opportunity to talk. About anything! As Executive Director, Lee and the highly qualified staff of All Ears! are dedicated to duplicating the model that worked for Anna to ensure All Ears! children have the best chances for spoken language, literacy and independence.
Since Anna's birth, Lee and her husband, Steve have been active advocates for educational and social issues impacting children who are deaf and hard of hearing. She served on the board of directors of the Alexander Graham Bell Academy for Listening and Spoken Language, 2014-2018. Together, she and her husband, Steve, were named 2014 Honorees of Houston's Center for Hearing and Speech and served as Gala Chairs in 2008. Lee is also a past member of the board of directors of the Houston Ear Research Foundation.
Tracy Piontek, Accounting and Finance Projects Manager
Tracy earned her Bachelor's degree in Accounting from Arizona State University in 1992, passed the CPA Exam and worked for Arthur Andersen LLP as a public accounting auditor ands various accounting roles for companies in both Arizona and Wisconsin until "retiring" to raise her three daughters in The Woodlands, Texas.
Over those years, Tracy has been a volunteer on PTA's, Booster Clubs and Soccer Organizations assisting with both Treasury and fundraising roles. Tracy was introduced to All Ears! by Lee Rech and began volunteering for All Ears! in 2017. Since that time she has served a Chair for the Toast & Taste Fundraisers, assisted with the annual Clay Shoot, served on the Board of Directors as Chairwoman and on January 1, 2022 transitioned onto the staff as Accounting and Finance Manager. Tracy has a passion for AE!'s Mission and has been humbled by seeing first-hand what a huge difference this organization can make in children's lives who are hard of hearing.
RHONDA DARBY, COMMUNITY RELATIONS
Rhonda comes to All Ears! with 10 years of experience working in the nonprofit sector in Mental Health and Senior Services. She attended Southeastern Louisiana University, where she graduated with a Bachelor's degree in Social Work. She and her husband Greg, have fouradult children.
Rhonda currently serves on the Board of Directors of Community Partners of Montgomery County, and is a member of The Assistance League of Montgomery County, volunteering on the Operation School Bell Committee. She is a Sustaining member of the Junior League of Lafayette as well as the Montgomery Monarchs chapter of National Charity League. She was recently selected as a member of theLeadership Montgomery County Class of 2024.
In her free time, she can be found volunteering for local non-profits, spending time with her family- including a Grand-dog named Watson, 2 cats, and 8 chickens.
She is thankful to be a part of such a dedicated team and looks forward to making a difference in the lives of All Ears! families.
Kim Erbele, Office Administrator
Kim got her BS in Early Childhood Education from Texas A&M University. She married her high school sweetheart, Garrett, in 2004, and taught first grade for five years before becoming a mom. Kim has twin boys, Blake and Jack, and daughter Kate. She spends much of her time volunteering at their school. Kim is very involved in PTO and has run the school's Santa's Secret Shop for 3 years. She was the chair of Christmas Dessert and Worship at TWUMC for multiple years.
Kim was a member of the talented volunteer team that created our signature Toast & Taste Gala, and has been a loyal and valuable volunteer with the annual event every year since. Kim has a unique understanding of All Ears!' mission seeing firsthand the impact of hearing loss on the family of her dear friend. She's very excited to join the All Ears! Team.