Event Memories
Videos and Success Stories!
---
HearPeers Feature: Annie!
Born with profound sensorineural hearing loss, Annie was implanted as a young girl with MED-EL cochlear implants. When her parents first heard the news of their daughter's hearing loss, they never thought they would be here.
Today, Annie is four years old, and she wears a SONNET 2! She loves dancing, ballet, and tap. Annie is also currently preparing for her third dance recital.
Thanks to her MED-EL implant and the gift of sound, Annie continues to surprise and make her parents proud!
---
STUDENT SUCCESS – Way to go, Kennedy!
Kennedy earned the "Best Listener" award during one of her 3-year old soccer games. The referee noticed her, not because she was the best player, but because she was the best listener during the game! Kennedy has a severe to profound bilateral hearing loss.
---
From Glenda Malana, Sam's mother
Meet Sam!
Join us as we follow Sam and his family on his journey to listening and speaking.
Hearing the words: hearing loss, profound/severe, and permanent will forever be etched in our memory as we watched the audiologist mouth these important words about our 9 week old baby, Sam. Our sweet, happy, perfect baby never heard the good mornings, good nights, and I love yous since the day he was born. It tore us apart…for about 24 hours. Then we gathered our emotions and started a game plan. We ordered his hearing aids, scheduled speech therapy and wanted to know as much as we could about the hearing loss community. We learned about cochlear implants and knew we had to make the decision for Sam. The thought of implants and therapy helping Sam to listen and speak like his hearing peers seemed unbelievable; but we kept seeing videos of success stories, reading about success stories, then we kept meeting success stories. The surgery is scheduled in a few weeks and although there are still moments of doubt, we want to make sure we've done everything for him and given him the tools to become successful.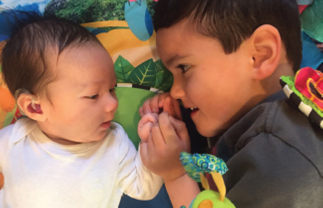 ---
"I'm so happy we were able to come to this school though it has been a daily challenge due to traveling expenses. We make it work because our daughters future is worth every penny and then some." ~ Lydia (All Ears! parent)
---
" Rosie was 3 and only spoke three words, now there is no stopping her she sings and is able to communicate with her hearing peers and family everyone sees the difference and love having conversations with her. I'm so blessed and glad we have found our way to All Ears! this was the best choice for her! I love you All Ears! Family!
~ Jovana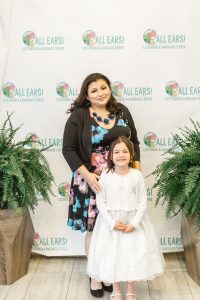 ---
Meet Wesley!

This is Wesley. He is mainstreamed in kindergarten with his typical hearing peers. Wesley speaks English. He has learned to count in Spanish. Way to go, Wesley! Wesley was identified with a hearing loss after 3 years of age. He attended All Ears! for year-and-a-half before entering mainstream kindergarten with his hearing peers.
---
Meet Lacey and Lanae!

Lacey and Lanae received hearing aids at 3 months of age. They started receiving Auditory Verbal Therapy soon after. They are now attending All Ears! and will be mainstreamed in kindergarten next year. Listen to their amazing voices singing Twinkle, Twinkle Little Star. Schedule an initial visit!