HEARING LOSS IN CHILDREN
2-3 of every 1,000 babies are born with hearing loss. Texas has state mandated that every baby born in Texas should have a newborn hearing screening prior to leaving the hospital. Children who pass their newborn hearing screening may still acquire hearing loss at an older age.
If you are concerned that your child is showing signs of hearing loss, it is important to have his or her hearing tested by a pediatric audiologist. Give our office a call today to talk about your concerns and make an appointment: 936-251-3021
Location
4840 W. Panther Creek Dr. Suite 208
The Woodlands, TX 77381
Hours of Operation:
Monday – Thursday: 8am – 5pm
Friday: 8am – 12pm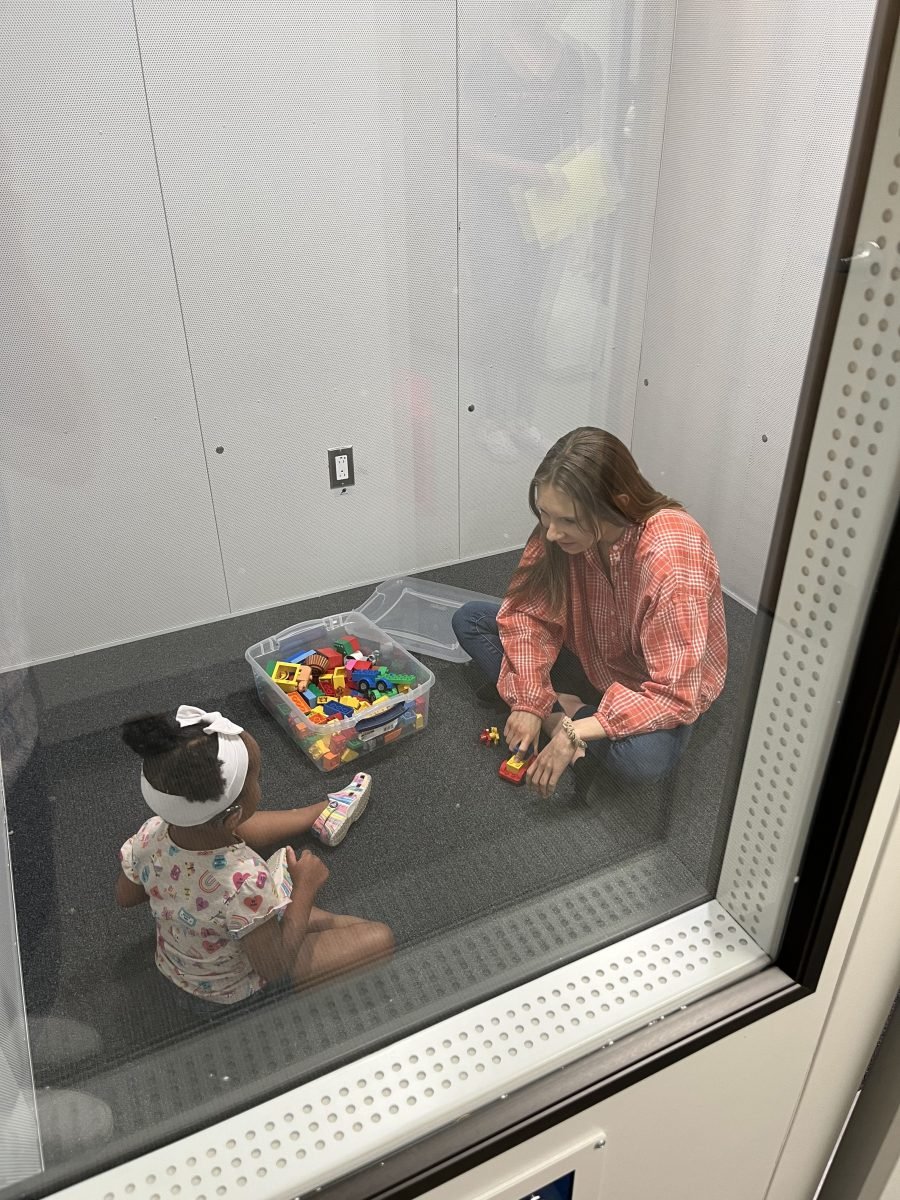 What We Offer
Watch baby Amelia hear her mom's voice for the first time.
HEARING TESTING FOR YOUR CHILD
Our audiologists provide a comprehensive and detailed assessment of your child's hearing using a combination of the tests below. When you bring your child for his or her appointment, your audiologist will explain the hearing testing that is being completed, the results we obtain, and the recommendations we have to optimize your child's well-being.
COLLABORATIVE CARE
The All Ears! team is passionate about guiding and coaching parents to help children attain their full potential. Our team is leading the way in achieving early detection, appropriate amplification with hearing aids and/or cochlear implants, and the continued collaboration between listening and spoken language interventionists, LSL educators, and pediatric audiologists. Our team of audiologists, teachers, and speech-language pathologists work together to provide you with the tools you need to optimize your child's potential. Our speech-language pathologists and teachers are certified as Listening and Spoken Language Specialists which means they have specialized training to support the unique needs of children who have hearing loss.
During appointments, our audiologists and speech-language pathologists often work side-by-side with the shared goal of ensuring your child's listening and spoken language needs are met at each session. We intentionally include a Listening and Spoken Language Specialist in most pediatric audiology appointments to help obtain a thorough and accurate test as well as have their specialized insight on the child's current language ability. This allows them to assist in real-time to determine a child's hearing ability or performance with their devices. To progress in speech and language ability children need the best acoustic access as quickly as possible and utilizing collaborative care efficiently utilizes appointment times so that adjustments and/or recommendations can be made in a timely manner. This collaborative care approach makes us unique so your family and your child have a team approach to achieve their listening goals.
HEARING LOSS SOLUTIONS
If your child is diagnosed with hearing loss, we will provide you with detailed and comprehensive information explaining the options you have for your child's communication ability. If you choose for your child to communicate through listening and spoken language, your pediatric audiologist will recommend hearing technology that will maximize your child's hearing abilities, and will collaborate with your child's Listening and Spoken Language Specialists who will create a plan to provide the early intervention your child will need to reach his or her full potential.
All Ears! accepts insurance and provides financial assistance when needed to ensure recommended services are available to all children without delay.